To join our booster club, please click on the following form: Crusaders Athletic Booster Sign Up Form
Registration for the 2018 Golf Classic is going on now!
2018 4th Annual Golf Tournament Registration Form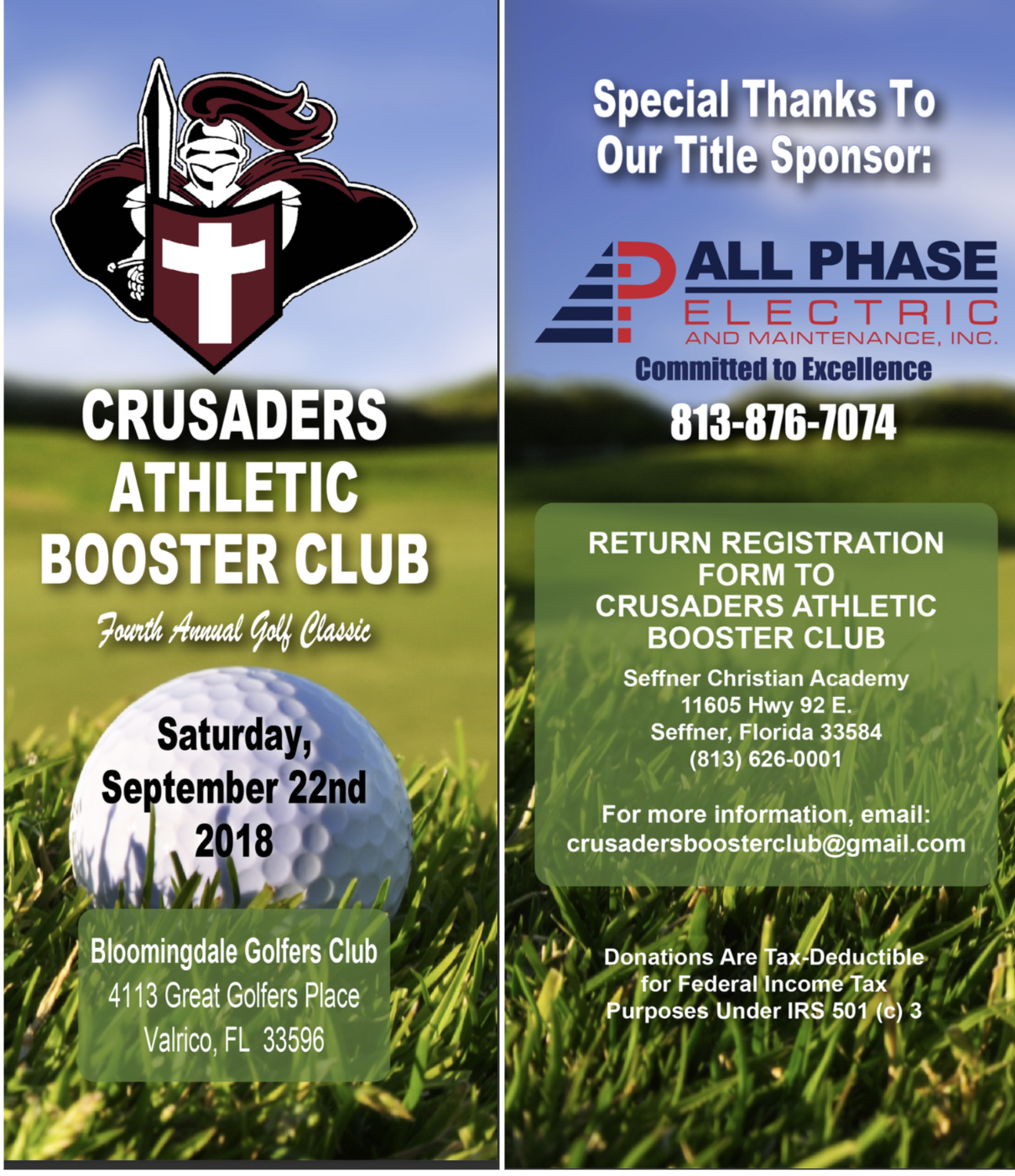 The mission of the Crusaders Athletics Booster Club of Seffner Christian Academy is to provide a winning athletic program that helps develop the students through education and competition, to stimulate a lasting attitude of discipline, sportsmanship, integrity, leadership, and social responsibility, to promote SCA's values by providing a Christian foundation for student-athletes, and to make the athletic programs an enduring source of confidence for the student body, student-athletes, alumni, and community. We want to partner with SCA families and local businesses to accomplish this mission. For the 2013-14 School Year, our Girls Basketball team was State-Runner Up, Boys Cross Country qualified for the state meet, and our Softball team also qualified for Regional competition. We had 1 Girls Tennis athlete and 2 Track and Field athletes qualify for the state meet.
We currently field teams in the following sports:
High School
Football
Boys Soccer
Girls Soccer
Volleyball
Cross Country (State Qualifiers)
Boys Basketball
Girls Basketball (2013-14 State Runner Up)
Baseball
Softball
Girls Tennis (State Qualifiers)
Boys Tennis
Cheerleading
Track and Field (State Qualifiers and medal winners)
Middle School
Football
Baseball
Softball
Soccer
Boys Basketball
Girls Basketball (2013-14 Undefeated Season)
Volleyball
As our athletic programs continue to grow and succeed, we need additional resources to help us purchase equipment, uniforms and provide our athletes with great facilities. Please be a part of our team and support the Crusaders Athletics Booster Club at Seffner Christian Academy! You can do this by becoming a sponsor and financial supporter of the Crusaders Athletics Booster Club.
To join our booster club, please click on the following form: Crusaders Athletic Booster Sign Up Form