Master Site Plan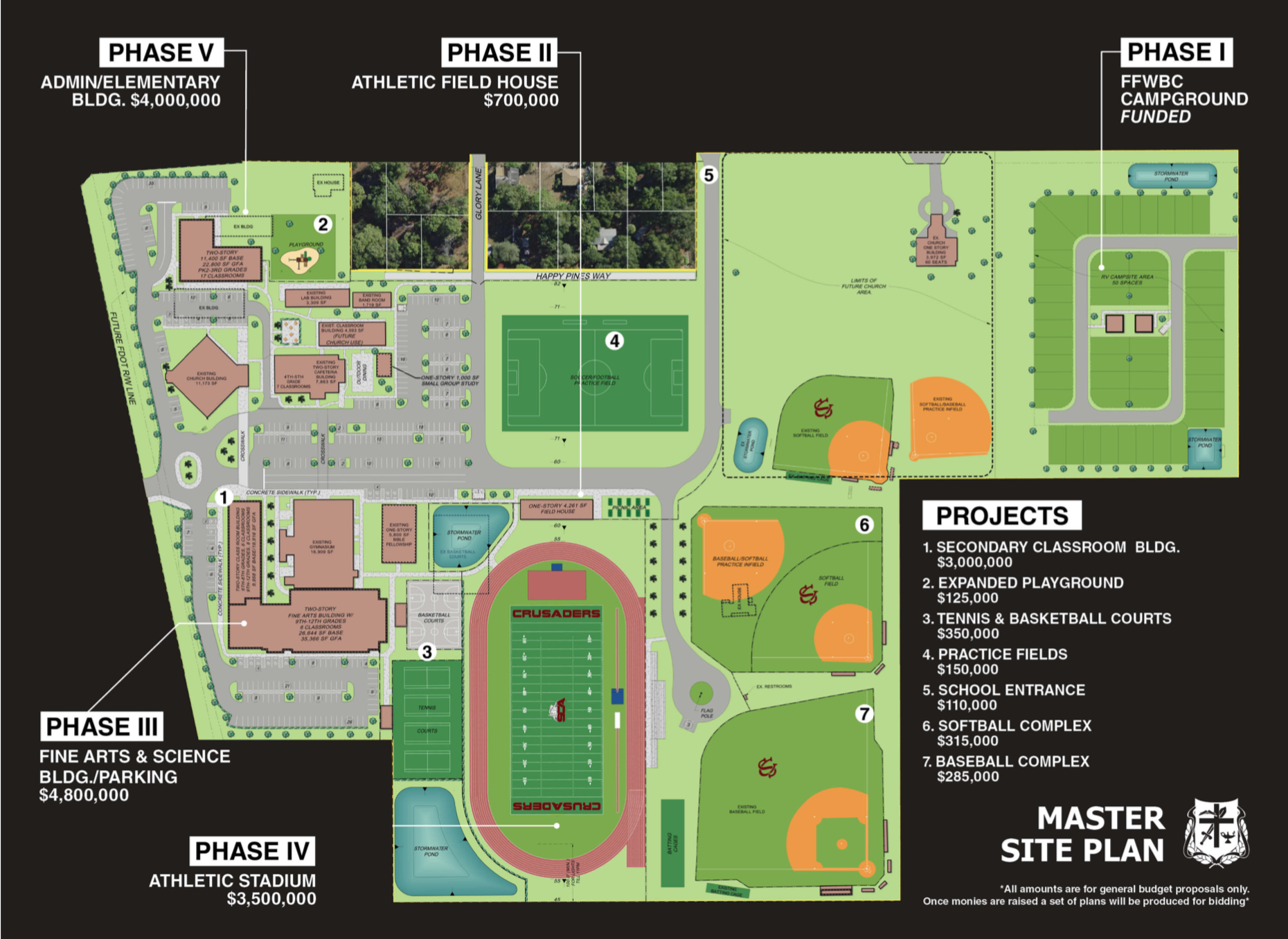 Seffner Christian Academy opened its doors in 1983, offering preschool though 7th grade classes to 60 students. Over the years, the school has continued to grow and expand, as evidenced by the current enrollment of over 700 students. Seffner Christian Academy desires to provide updated facilities for academics, fine arts, and athletics through the IGNITE campaign.
This campaign is divided into phases and projects. The phases may be completed in sequence as monies are raised. The projects can be completed any time funds are made available through fundraising designated to that project.
May God add His blessing as SCA moves forward in this exciting new time for our school!
Phase I
FFWBC Campground Relocation | Completed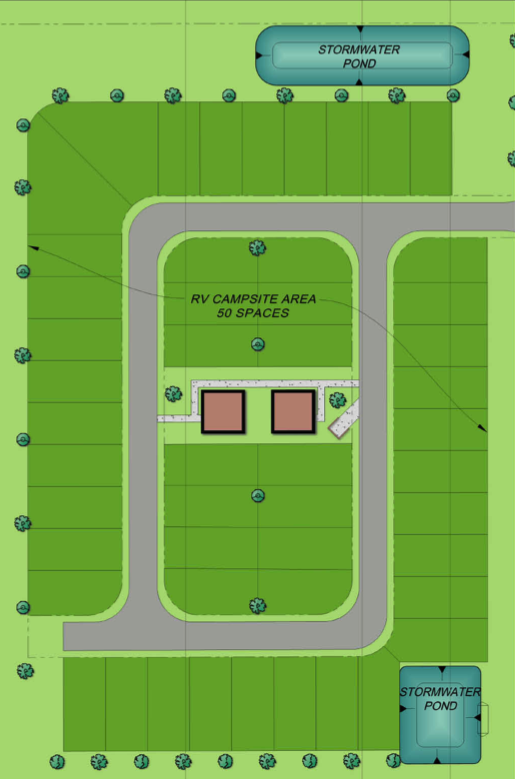 The First Free Will Baptist Campground has been relocated to the southeast portion of the property. It contains 50 sites, a bathhouse, and a meeting hall for its residents throughout the year.
The campground is a ministry of the church and provides a place for guests to stay primarily during the winter months and enjoy the fellowship of FFWBC. The campground residents are a great blessing and encouragement to the church each year.
Phase II
Field House | $700,000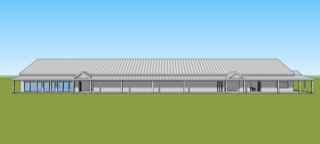 Seffner Christian Academy will build a 7,850 square foot field house to provide our students, parents and guests with locker rooms, bathrooms, showers, a multipurpose room, team rooms, a training room and a concession area. This will be a multi-sport facility for the outdoor teams to utilize throughout the year and will be a tremendous addition to our athletic program.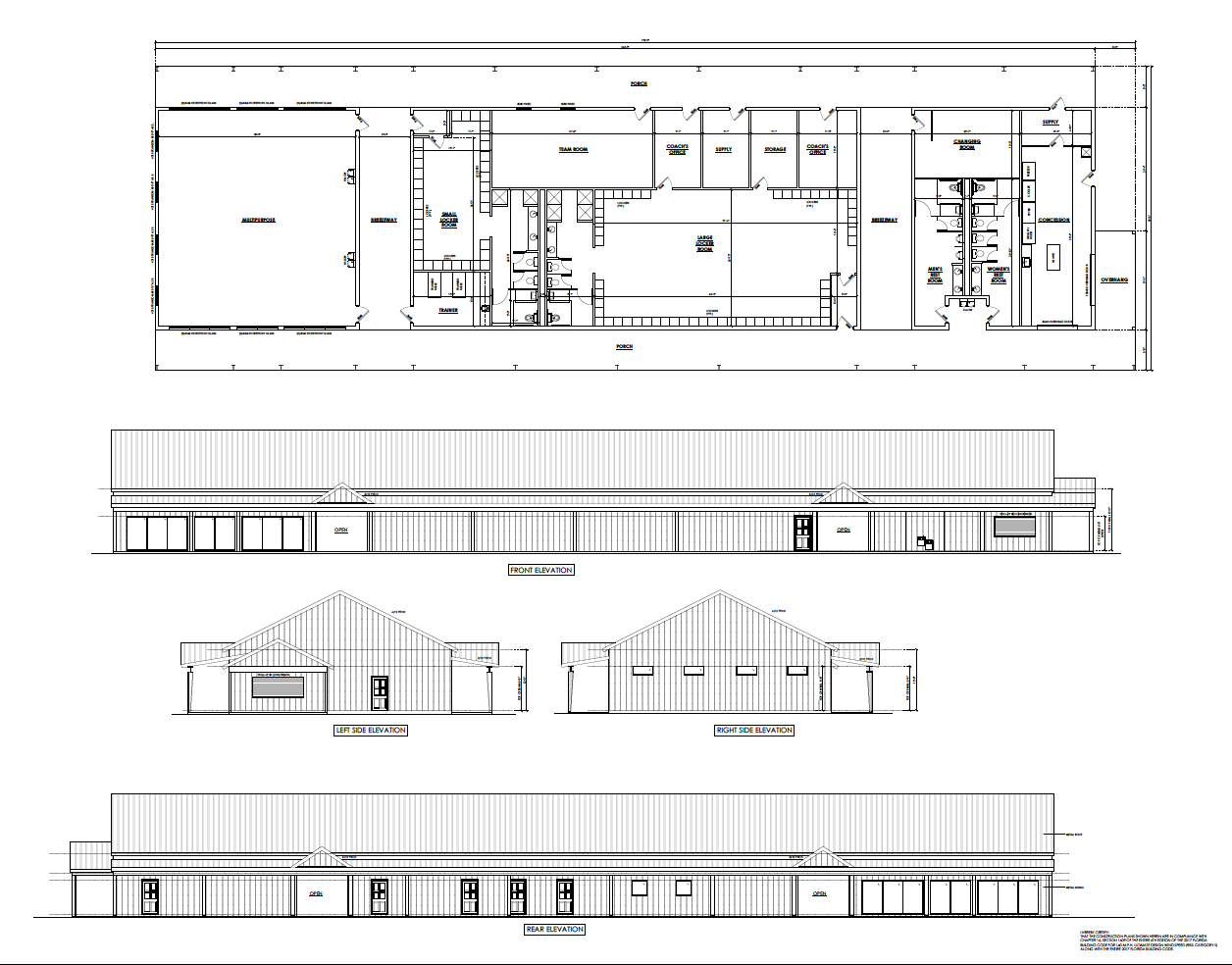 Phase III
Fine Arts / Science Center | $4,800,000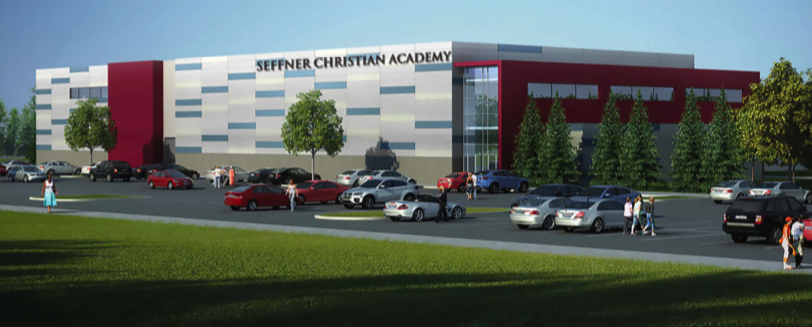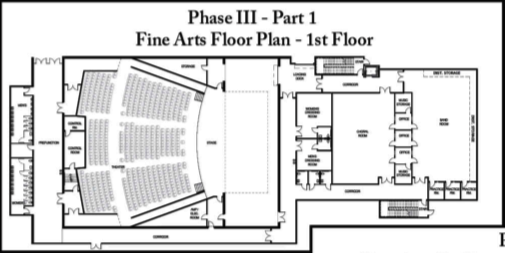 Seffner Christian Academy will build a 38,000 square foot Fine Arts and Science building. The first floor will include a 650 seat auditorium, stage, choir room, band room, rehearsal rooms, offices, and restrooms. The second floor will include 6 classrooms, labs, restrooms, and offices. This building will allow SCA to expand and enhance its Fine Arts and Science Programs.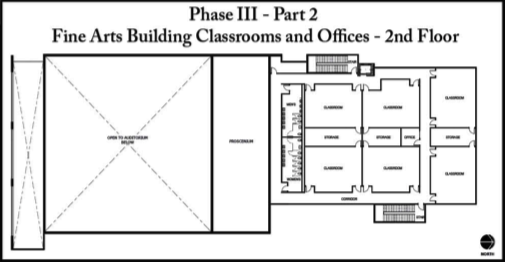 Phase IV
Athletic Stadium | $3,500,000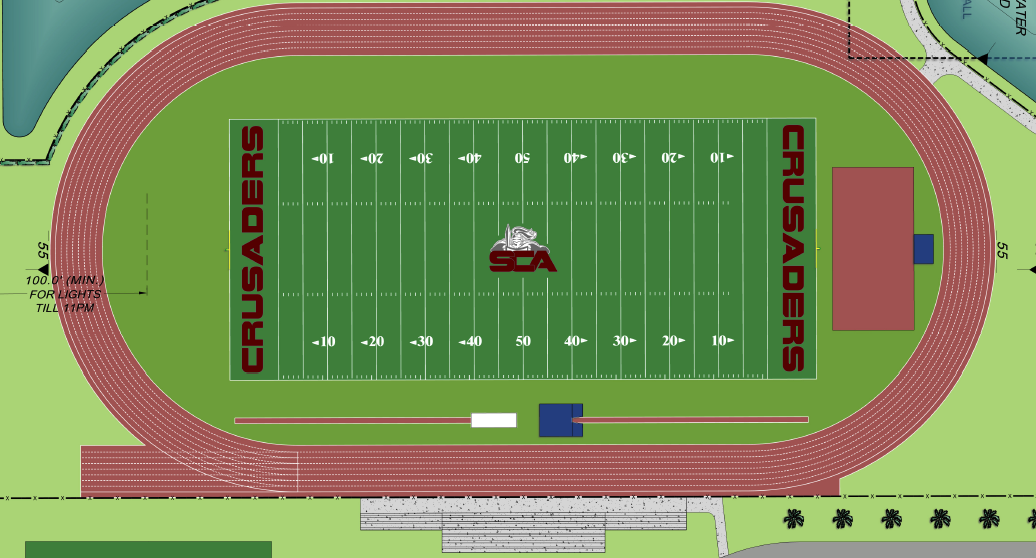 Seffner Christian Academy will build a stadium and track equipped with lighting that will allow for football games, soccer games and track meets to be hosted on our campus. The stadium will also host district and regional events.
"...But to tell the coming generation the glorious deeds of the Lord, and His might, and the wonderful works that He has done."
--Psalm 78:4b
Campaign Projects
---

Secondary Classroom Building
$3,000,000
(16 Classrooms, offices, and study rooms)
Tennis and Basketball Courts
$350,000
(4 lighted tennis courts and 2 covered basketball courts)
School Entrance
$110,000
(New Drive on the southeast part of the campus)
Expanded Playground
$125,000
(Divided into preschool/lower elementary and upper elementary section, as well as open space for games)
Practice Field
$150,000
(Additional fields for PE, athletic practices and middle school sporting events)
Softball Complex
$315,000
(The softball field will be moved west of its current location with lights, dugouts, a scoreboard, batting cages, and storage)
Baseball Complex
$285,000
(Expanded to include lights, batting cages, press box, players room, and storage)
Naming rights are available on all phases and projects if the gift is equal to or greater than 75% of the total phase or project.
Campaign Videos
---